WIN The Ultimate SUSTAINABLE BUNDLE
WORTH £370
A sustainable bundle that is win-win
Do you fancy updating your wardrobe with clothes that do good & have no waste involved? Having a super-smooth sustainable shave? Enjoying skincare staples that are pro-planet? Stocking up your kitchen cupboards with food-waste-fighting condiments? Plus having great, sustainable coffee at home?
We're all about spreading sustainable love when it comes to brands who are doing better for people and the planet. For your chance to WIN the ultimate sustainable bundle (worth £370) pop your email address below and all this could be yours!
£100 to spend on affordable, sustainable clothes that look good & do good - from This is Unfolded
A bundle of skin positive, pro-planet products - from BYBI Beauty
A 3 month razor subscription - from FFS Beauty
A selection of food-waste-fighting condiments - from Rubies in the Rubble
A coffee gift set - from Grind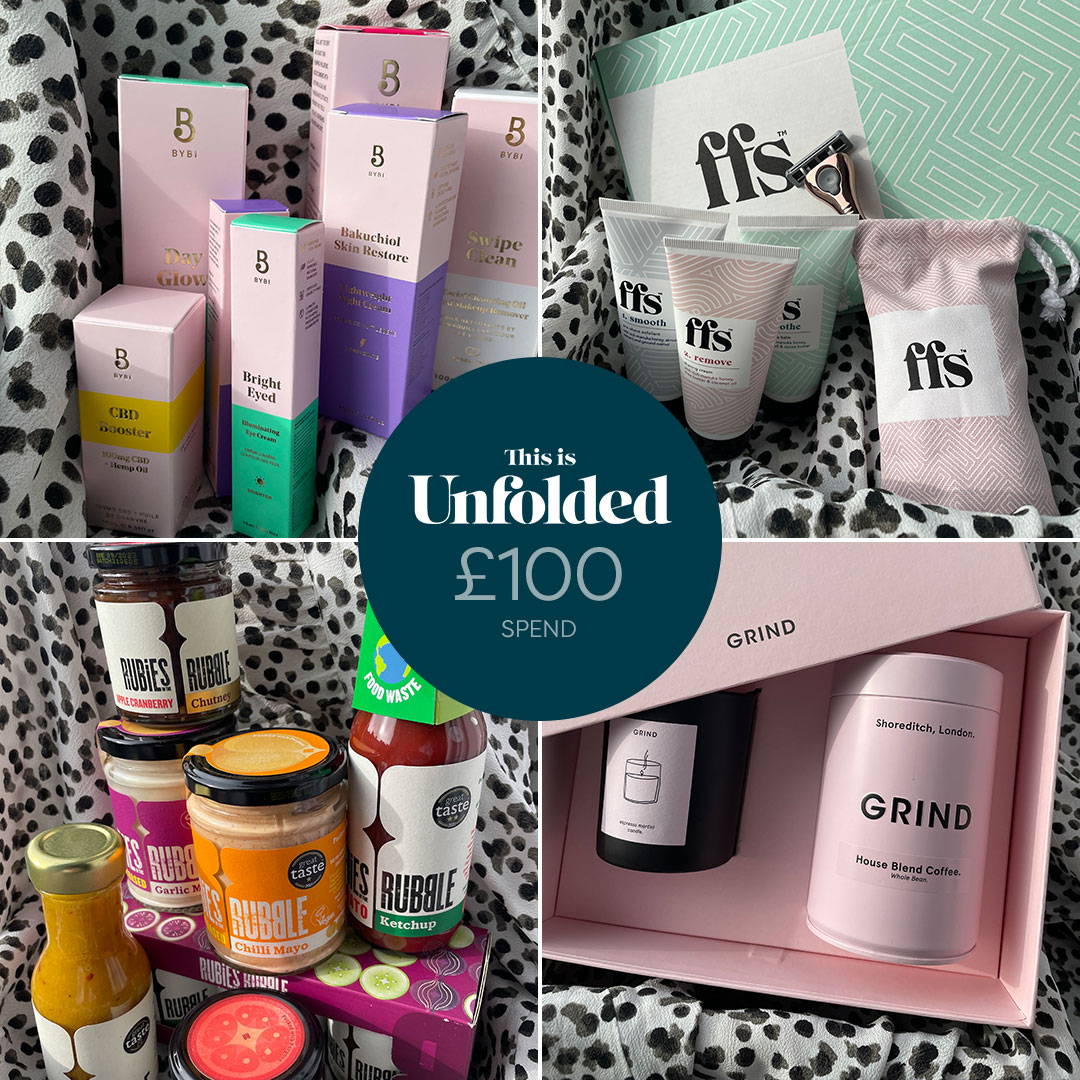 This is Unfolded
Sustainable fashion that doesn't cost the Earth, literally. We're all about bringing clothes that look good & do good to you at an affordable price. We wait until we have orders placed before producing our collections meaning we're not contributing to the 30% of clothes that are produced yet never sell in the traditional retail model. Every order changes lives from supporting children's education and paying garment workers higher wages. This is the change the industry needs. Find out more.
Rubies in the Rubble
⅓ of all food produced globally is wasted. Rubies make food-waste-fighting condiments using surplus ingredients that have been deemed the wrong size, are misshapen or have cosmetic blemishes. Bringing a whole lot more taste, but less waste to your kitchen. Find out more.

FFS
For many years women's razors have been inferior to men's in both quality and results! What a frustrating thought, a real FFS moment, right?  That's why FFS (Fuss Free Shaving) was created, designed by women for women with quality, convenience, and flexibility always in mind. With the vision to make women's daily beauty routines fuss free, luxurious, enjoyable and more convenient we have expanded beyond shaving to deliver high quality products from tanning, haircare, deodorant and more. Find out more.
BYBI Beauty
Sustainable skincare is BYBI's only beauty standard. BYBI believes that great skincare shouldn't come at the cost of our planet, so they're making it their mission to bring climate conscious products to the masses. Revolutionise how you moisturise with skin positive, pro-planet beauty. Find out more.
Grind
Every minute, 29,000 plastic and aluminium Nespresso® pods go to landfill. From planet friendly packaging to organic coffee, Grind offers sustainable coffee at home by making pods which break down in your compost or food waste bin faster than a banana peel. All of the coffee in them is organic and ethically sourced from sustainable farms around the world. Find out more.

Terms and Conditions
Competition closes on 20/02/22. UK entrants only. We will be in direct contact with the winner via DM from the @thisisunfolded account or via email. Please do not engage with any other accounts if you are contacted or click any links. Full T&Cs apply.
Your bag contains 0 items