THIS IS UNFOLDED IS MADE BY, WITH AND FOR OUR COMMUNITY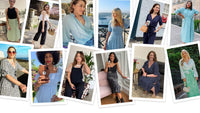 This is Unfolded is different to anything you've come across before. We're not just a sustainable clothing brand - we're a community on a mission to change the world by removing the insane amounts of waste from fashion. 
Over 10,000 women have joined us to shop more consciously. Together, we are a movement. We are changing the world - let's fix the broken fashion industry and change thousands of lives in the process. The power of This is Unfolded is what we do together and what that allows us to create. After you purchase you'll be invited to join our amazing community, and become an Unfolder!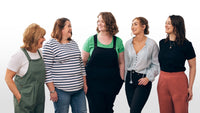 Designed by you, loved by you
Most brands create waste because they don't really know what you want - they're just guessing! At This is Unfolded, our customers help us design everything we create. You vote on all aspects of the sustainable clothes we're making.
Collection 06 has been designed with input from over 3,000 women.
That means you get the clothes you actually really want. Sustainable, ethical fashion that looks good, feels good, and does good. (And dresses with pockets!) We even name the clothes in every collection after the people who helped design them!

Swapping not returning
30% of clothes bought online are returned - for dresses this rises to 40%! This is another huge area of waste in the fashion industry as these products can often end up being sent straight to landfill. With Unfolded you can swap an item instead of returning it with another shopper and we'll pay the postage between the two of you. 
You can change the size you got without creating any more waste. 
Community photoshoot
For every collection we do an Unfolder Photoshoot where we bring together 5-10 members of the our amazing community to try on the clothes before anyone else, share their opinions and allow us to take amazing photos of them wearing the new styles. 

You get to see the clothes you've helped design on real people before you purchase!
Events
After years stuck in the house because of Covid it's nice to meet new people. It's even nicer to meet new people who have the same world view, interests and passions as you. That's why we host Unfolder Community meetups around the country.
Join us for upcoming sustainable shopping events!
Always listening
Got an issue? Want to give us feedback? Anything at all? We're here to listen, learn and improve.
We have a fantastic customer support team, who always provide 5* service, and are on hand to answer your questions, fix any issues you might have - and we love to hear what you think.
And our CEO Cally is in the community group on Facebook. When we say he reads every post - we really do mean it! (Just excuse his awful puns...)
Our community's impact
Your clothes can change lives. Every piece of sustainable clothing you buy from This is Unfolded buy gives a child in India extra educational support to help with their reading, writing and maths skills.
Only 50% of children aged 11+ in India are able to read and write. Helping improve this balance opens up new job opportunities in the future for the children involved. Pratham UK power our on the ground impact.
Loved by you
"Love the fact that every time a piece of clothing is bought help goes to support children throughout India. Your clothes are well made and fabulous value for money. My dress has been much admired. "
- Tem McGurk
"Love what you guys do! Mindful and intentional shopping is the only way forward. This sparks joy!"
- Tessa
"Fabulous fabrics and easy to wear designs. Slow fashion and well worth it! But what I love most is that buying from TIU makes a difference in the world through its support for education. As a teacher this means so much!"
- Catherine F


Join us
There's a lot to love about being in the community with This is Unfolded! Get exclusive early access to our next collection and 15% off your first order when you sign up to our waiting list.
Your bag contains 0 items