30% of new clothes produced every year are never sold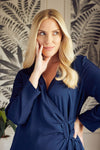 New, unsold clothes end up being sent straight to landfill or destroyed. 80 billion new items of clothing will be produced this year - 24 billion are just wasted!
This is what makes fashion the second biggest polluting industry in the world - accounting for nearly 10% of global carbon emissions every year.
And this number is growing!
This is Unfolded makes clothes without this waste. We use the savings created to pay workers better, fund children in education - and offer you affordable sustainable clothes.
This is Unfolded: shopping with a conscience.
Since you started reading this
108,000
Items of cloting will have been dumped due to overproduction
How we make clothes matters
Traditional brands are based on guesswork and over-production. They build in high margins to allow for the waste this creates.
1

Design clothes with no customer input based on 'gut feel and guesses'.

2

Order clothes up to 6 months in advance to stock up stores.  

3

Hope their guesses work out and they sell everything they ordered.

4

Left with lots of stock that no one wanted at full price.

5

Discount them hoping to sell what is left… still left with around 30%!

6

Dump the remaining clothes, or burn them or ship them to another country… Out of sight out of mind!
This approach is what drives huge amounts of waste and creates so much damage to our planet - brands and retailers chasing profits!
It's also why garment worker wages are so low!
At This is Unfolded we remove the waste from the process by designing with our community of shoppers and only producing after you order.
Yes, it means you wait a little longer for your order - but it's better for everyone involved!
1

Design collections with real customer input from the Unfolded community of thousands of women! We'll invite you to join after you buy...  

2

The most loved designs are turned into samples before we further refine them with the Unfolder community.

3

We launch our sustainable and affordable clothes as limited time collections every couple of months!

4

Orders taken and then production starts. Orders take 4/6 weeks to be delivered after ordering!

5

No overproduction in the model so we're not left with that 30% extra that other brands are!

6

The money saved in the process is used to fund education around our factories, pay higher wages to our workers and offer you great prices!
This approach means This is Unfolded is better for the planet, better for workers and better for you!


Better for the planet
1. Nothing sent to landfill 
2. Sustainable materials 
3. Carbon offset

Better for workers
1. Higher wages 
2. Children funded in education around our factories
Better for you
1. Clothes you'll actually love
2. Great value sustainable clothes
3. Transparent approach
Your bag contains 0 items